Some links in the post are affiliate links and I get a commission from purchases made through some links found in the post.
Most gardeners adore growing hydrangeas because of their enormous, vibrant flowers. The ideal soil conditions for hydrangeas are well-drained, nutrient-rich, and moist.
For hydrangeas, we always advise adding a layer of mulch to help retain moisture and replenish the soil's nutrients. For some hydrangeas to bloom the following year, they also need a little protection during the winter.
Keep these requirements in mind when selecting what to plant alongside your hydrangea. Or where in your garden, in conjunction with the existing plants, you should plant hydrangeas.
Gardeners often use hydrangeas as borders or foundation plants. Fortunately, there are lots of plants that go well with hydrangeas. Some suggestions for perennials, shrubs, and annuals work well as hydrangea companion plants.
What to Plant with Hydrangea?
Boxwood, hollies, yews, mahonia, gardenia, and loropetalum complement hydrangeas. Early color will come from azalea blossoms. Since azalea blossoms will have faded before hydrangeas, you can select their hue.
Boxwoods and azaleas enliven a formal or natural-looking winter landscape. These might impede winter winds.
Hostas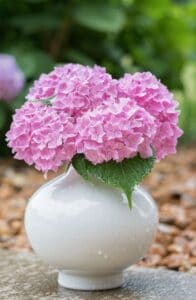 Hostas make excellent companion plant for a hydrangea. These tiny bushes have drop-shaped leaves with bright margins that draw attention to the simple greenery and hydrangea inflorescences.
Hostas prefer slightly acidic growing environments and do best in nutrient-rich, moist soil that is not overly wet. Similar to hydrangeas, they prefer some shade.
Azaleas and rhododendrons grow well with hydrangeas because they like shade and organic mulch. These plants also prefer slightly acidic soil, just like blue hydrangeas do.
Avoid the pink ones or let them turn blue because they prefer more alkaline soil and won't thrive with acid-loving azaleas.
Azaleas are good companions for any acid-loving plants because they are not bothered by insects or diseases.
White or yellow variations contrast beautifully with blue hydrangeas. White hydrangeas complement pink or salmon. Some azaleas bloom outside of spring and summer to keep the landscape interesting.
Gardenia
The gardenia's dark green foliage and the large, sculpted hydrangea leaves combine beautifully, providing the ideal background for the plants' white blossoms.
McConnell specifically suggests the upright-growing 'Diamond Spire' gardenia blooms from late spring to fall with fragrant, single white blossoms.
Gardenias thrive in moist environments; to maximize their magnificent blossoms, feed them by applying an acidic, slow-release fertilizer such as an azalea or camellia fertilizer
Fibers
Conifers, including thujas, junipers, pines, and dwarf pines, are some of the ideal hydrangea companion plants. These plants should be grown on two levels: tall trees in the background and low bushes in front.
The thujas in this arrangement provide the necessary shade for the hydrangeas, making them lovely and advantageous.
Ferns
Numerous varieties of small ferns are ideal for planting close to hydrangeas. Hydrangeas' big, lacy leaves contrast pleasantly with their size.
Like hydrangeas, ferns prefer shady locations with rich, moist soil. There are a wide variety of fern species to choose from, making it possible to grow pink and blue hydrangeas. Some ferns prefer acidic soil, while others prefer alkaline soil.
Every planting zone for hydrangeas has ferns as well. Before planting, be sure to pick the appropriate species.
Planting Trees Around Hydrangeas
To help mitigate the afternoon sun, think about planting close to medium-sized trees. In general, dwarf Japanese maples, dogwoods, and crape myrtles look great next to hydrangeas.
Dark-leaved dwarf Japanese maples contrast with the green hydrangeas. Japanese maples have lighter, smaller leaves than hydrangeas.
Planting Ornamental Grass Around Hydrangeas
In more sunny areas, low-maintenance ornamental grasses make a good partner. Taller grasses can be placed towards the extremities of a hydrangea border garden and shorter ones in front.
Larger hydrangea leaves contrast nicely with their texture. They offer movement to your garden on windy days.
What Foliage Goes with Hydrangeas?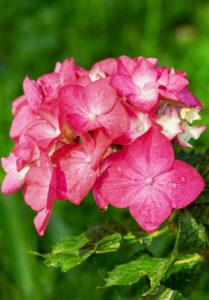 Hydrangeas are a perennial popular wedding flower. They are luxurious, stunning, and perfect for almost any type of wedding—romantic, formal, whimsical, modern, or rustic.
Hydrangeas bloom throughout the summer and come in various colors and forms.
There are variations of hydrangea with green, pink, red, and even purple petals, in addition to the white and blue ones most people are acquainted with.
Make it modest
This springtime arrangement of green hydrangeas by Glenn Certain Floral + Event Design is exquisitely complimented with blush pink peonies.
The scale indicates that sometimes less is more, even for a giant flower like hydrangeas.
Accept White
Hydrangeas are frequently incorporated low in bouquets, allowing other flowers to float above.
This bouquet by Bloom Flores e Eventos is stunning with hydrangeas, roses, peonies, and lisianthus—all in the ideal shade of white. It is crisp, clean, and incredibly traditional.
Specify Flowers that Go Well Together
Change it up by adding hydrangeas to other vibrant blooms. Other flowers that contribute to that gathered and full aesthetic also work well.
Design Works produced a breathtaking bouquet of southern hydrangea, jasmine vine, and scabiosa for these private nuptials in Vail, Colorado.
Go Green
Small, soft green hydrangeas offer a distinctive contrast to their larger counterparts, just as striking as the more well-liked brightly colored varieties.
As shown in this arrangement by Pop the Cork Designs, a handful of flowers creates a design full of vitality and freshness.
Include Roses
While hydrangeas stand out on their own, adding another statement-maker, such as roses, to a bridal bouquet will enhance the already stunning floral moment.
The two florals together will work well for any wedding design, no matter the season.
Utilize Special Color Combinations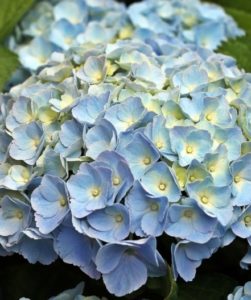 The combination of light blue hydrangeas with peach-colored flowers such as garden roses is unusual, but it works nicely with the springtime comforts.
Blue-colored bridesmaid dresses might be an option. There is no need to look past this unique pairing.
The combination of hydrangeas with tropical flowers, such as protea, is stunning and modern. The antique hydrangea, a late-summer favorite, is perfect for a beachside destination wedding since it exudes tropical inspiration.
Planting Annuals Around Hydrangeas
Shade-tolerant annuals thrive next to hydrangeas, just like perennials do. Additionally, these plants typically favor regular irrigation and rich, fertile soil. Coleus, impatiens, and begonias are some of the best annuals to grow alongside hydrangeas.
Add annual flowers and foliage plants to the base of your hydrangeas to brighten the shady area. The benefit of adding annuals is that you can switch things up each year by experimenting with new plant combinations or flower colors.
Begonias, coleus, browallia, euphoria, and impatiens are all excellent choices for shade-tolerant gardens. These plants come in different varieties with various blossom color options and, in some cases, various leaf color options.
You may also like: What to plant with coleus in a container
Can you Plant Hydrangeas Next to Roses?
Roses are stunning as solitary plants in any environment, but there are times when you might wish to spruce up the appearance of the space. The easiest way to accomplish this is to cultivate other plants, such as flowers or herbs beneficial to and compliment your rose bushes.
It is possible to grow roses and hydrangeas in the same garden bed. Because hydrangeas favor some shade, while roses thrive in the sun, you will need a kind that is more tolerant of the conditions.
The lime-colored blooms of the paniculate hydrangea 'Limelight,' which thrives in direct sunlight, are the ideal complement to the passionate pink roses.
Those who cover their bare legs make excellent rose companions. Traditionally, tall-growing pinks (Dianthus), catmint (Lavandula), and lavender (Lavandula) all make good companion plants.
3 Good companions also serve as living mulches, keeping the soil shaded and the roots of the roses cool by suppressing weeds.
Can you Plant Lavender and a Hydrangea Together?
Because of the circumstances that hydrangeas like, plants that do well either in direct sunlight or in the deepest shadow cannot live. These include many food and decorative plants, which are not good choices for companion plants.
Similarly, hydrangeas and plants that thrive in arid or poor soil, such as lavenders, are not a good match. This is true regardless of how wonderful the blooms seem when combined.
The good news is that an equally extensive list of plants may be mixed with them to create gorgeous garden displays.
What Not to Plant with a Hydrangea?
Most plants can coexist peacefully with hydrangeas. Planting hydrangeas in places where they won't get sunlight is not advised.
The plants will produce significantly fewer flowers as a result. Therefore, nearby plantings of tall trees and shrubs can be beneficial in the afternoon heat, but not if they completely block out the sun's rays for the plants.
Due to hydrangeas' conditions, plants that thrive in the sun or in extreme shadow cannot survive. These include many edible and decorative plants, which make wrong partners.
Similarly, no matter how lovely the blooms seem, plants that prefer dry or poor soil, like lavenders, will not grow well with hydrangeas.
Fortunately, an equally extensive list of plants may be combined to create stunning garden arrangements.
Planting Beneath Large Trees
The type of your hydrangea will determine whether it prefers sun or shade, but one rule generally applies: don't plant a hydrangea under large trees.
Your hydrangea will compete with that established ecosystem for water and nutrients if you grow it beneath a large tree.
Final Thoughts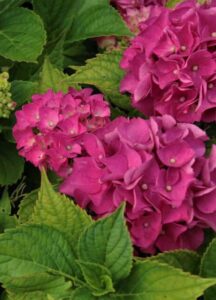 Consider maximizing color and lengthening the bloom period in your garden when selecting companion plants for hydrangeas.
Hydrangeas can assist you in accomplishing this by enhancing a color scheme and providing months of beauty before handing the "baton" to their companion plant.
When looking for a low-maintenance, shade-tolerant flower to plant in the nooks and crannies of your garden, a hydrangea is one of the best options.
They can give your garden a new sense of beauty and life with excellent color contrasts and foliage patterns.
These hardy perennials thrive in various soil types and environmental conditions, including full sun and partial shade.
The soil's pH can be alkaline, neutral, or acidic, making it ideal for blue or pink hydrangeas. Additionally, they are content with the high moisture level required for hydrangeas.