Some links in the post are affiliate links and I get a commission from purchases made through some links found in the post.
A portable greenhouse is an environmental modification and management system that helps you cultivate the plants in climates and seasons that would not be suitable for their development otherwise.
It offers the best weather protection and helps your plants to thrive in better environmental conditions. Mainly, it comes with two significant benefits.
First, it is protected, allowing you to cultivate plants in a variety of conditions. Second, you have the advantage of being able to relocate it.
Moreover, portable greenhouses have reasonable prices. One can easily afford them. They are the perfect environment for longer growing seasons.
One of the most significant advantages of utilizing a greenhouse is that you can adjust the temperature by insulating or venting it as needed and thus can extend your growing season.
Another advantage of using a portable greenhouse is protecting your plant from predatory animals and plants. They all are capable of wreaking havoc on your plants.
You won't need to invest in hazardous pesticides or chemicals because of the outside protection provided by portable greenhouses.
Some plants may not require a greenhouse for the rest of their lives, but it may assist seeds and seedlings in starting their growth by providing a safe environment free of birds, pests, and extreme weather conditions.
There are different portable greenhouses, such as a portable mini greenhouse, portable walk-in greenhouse, large portable greenhouse, compact portable greenhouse, and portable greenhouse with wheels.
In short, the portable greenhouse is very advantageous in gardening.
What is the Best Portable Greenhouses for Winter?
Here are some of the best portable greenhouses mentioned that one could buy for winter.
1) EAGLE PEAK 8' x 6' Portable Walk-in Greenhouse Instant Pop-up Fast Setup Indoor Outdoor Plant Gardening Green House Canopy, Front and Rear Roll-up Zipper Entry Doors and 2 Large Roll-Up Side Windows
This product helps to set up your greenhouse with ease. When it's time to store or move your mini conservatory, it closes just as effortlessly as it opens.
Because of its pre-assembled frame, transporting and storing are easier than others. The ability to relocate this greenhouse is a huge plus.
It easily allows you to prolong the growing period of your plants and witness your garden bloom year-round.
This greenhouse's structure is robust and durable enough to withstand most external conditions without issue with a steel-ceiling top.
EAGLE PEAK provides a one-year limited after-sale warranty from the date of purchase.
2) EAGLE PEAK Mini Walk-in Greenhouse 2 Tiers 8 Shelves with Roll-up Zipper Door and 2 Side Mesh Windows, Outdoor Indoor Portable Gardening Plant House 57" x 57" x 77", Green
This portable greenhouse is easy to assemble and disassemble, provides enough space to work, and has excellent quality.
It has a translucent green cover made of water-resistant, UV-protected thick polyethylene (PE) that is non-toxic and odorless.
The eagle peak mini greenhouse helps trap heat with maximum solar performance to keep the inside of the greenhouse warm, so it lengthens the plant growing seasons.
It has a unique design as well and comes with a 1-year warranty.
3) Home-Complete HC-4202 Walk-In Greenhouse- Indoor Outdoor with 8 Sturdy Shelves-Grow Plants, Seedlings, Herbs, or Flowers in Any Season-Gardening Rack
This flexible greenhouse is suitable for both indoor and outdoor usage.
Its clear PVC cover protects seedlings from cold and pests, resulting in an optimal growth environment.
This greenhouse is simple to construct and requires no tools. It is also ideal for extending your growing season.
Do Portable Greenhouses Work in Winter?
Yes, portable greenhouses can work in winters as they offer controlled and suitable conditions for your plants to grow in the best possible way.
Therefore, they are a big help in keeping plants in winter. However, this will depend on the type of plant or its variety. Certain plants can resist cold, while others can't and need a continuously warmer environment.
Growers can keep their crops growing year-round in greenhouses because they provide a controlled and consistent climate regardless of the season, which means you can keep growing all winter long.
The only thing required is to winterize your greenhouse in the right way. It means to get your greenhouse in tip-top shape before the winter arrives.
All organic materials must be removed from the greenhouse, as well as the walls and equipment. Portable greenhouses are cheap alternatives to expensive lighting and heating for growing cool-season vegetables.
Portable greenhouses come in various varieties. It can be a simple wooden frame covered with glass or a high tunnel hoop house greenhouse made from pipe frames covered with glass sheeting.
These keep plants growing throughout the cold months. These are ideal for hardening seedlings before planting them in the open landscape and provide a comfortable and productive growing space for many plants.
If you are enjoying this article, check out our article on how to care for your citronella plant over winter here.
Will a Portable Greenhouse Keep Plants from Freezing?
Yes, the use of the right kind of portable greenhouse can protect your plants from freezing. It includes:
Plastic Portable Greenhouses:
They provide enough insulation to ensure that the temperature inside the greenhouse remains 5 degrees higher than the temperature outdoors.
For plastic greenhouses, adding a layer of bubble wrap to the plastic sheeting can help keep them frost-free. Do not put your greenhouse in a frost pocket.
It's better to enhance temperatures around your plants rather than the total temperature of your greenhouse by placing horticultural fleece on top of them.
Also, remember to pin or tie down plastic greenhouses to prevent them from blowing away in winter.
Mini-Greenhouses:
Also, the use of mini-greenhouses can protect your plants from frosting. They are one of the best portable greenhouses.
There will be adequate insulation in a mini greenhouse to maintain a temperature at least 5 degrees higher than the surrounding air.
Your plants will be adequately protected in a mini-greenhouse throughout the chilly winter months.
How Warm do Portable Greenhouses Stay in Winter?
Greenhouses often maintain temperatures up to 30 degrees Fahrenheit higher than the ambient temperature outside.
Depending on your climate, the external temperature, the greenhouse glass, and other variables, a winter greenhouse's temperature might vary widely.
Among these different factors that influence how warm a winter greenhouse gets, the most important ones are
The greenhouse designs
Its variety
Your regional temperature, most importantly your minimum nighttime temperature and amount of sunlight per day
Amount of snow that covers your greenhouse.
How to Keep Your Greenhouse Warm in Winter?
Mini greenhouses: They are the best portable greenhouses that can protect your plants to keep them warm in the winter.
Cold Frames:
One can use cold frames. They're also one of the most accessible types of home greenhouses.
A low wall with a glass or plastic cover protects plants during frigid spring weather, especially in places where the wind is a big worry for plants.
You may grow lettuces and other sensitive plants in a cold frame during lousy weather. Before the weather heats up entirely, you can overwinter dormant plants or start seedlings outdoors.
When it comes to huge plants or delicate species, cold frames are not ideal.
Avoid Overwatering:
Another element contributing to plants freezing in an unheated greenhouse is how moist the soil is. Water in the root system of a wet plant makes it more likely to freeze.
Winter is an excellent time to drastically minimize watering since the plant's vascular system runs extremely slowly and doesn't need much water to function.
Insulation with Bubble Wrap:
The bigger the bubbles, the better the insulation. Stop heat from escaping through windows and doors by covering them up.
Use of Heaters:
Use of thermostatically controlled heaters, for example, use of digital kiln heat. The thermostat in it works effectively and always keeps your temperature within 2 degrees centigrade of your target.
Use of Air Circulators:
The use of heaters is not enough to keep your greenhouse warm. You must need air circulators so that your greenhouse is warmed evenly, and it makes sure that you don't leave any cold patches in your greenhouse.
Proper Ventilation:
Plants use CO2 and release oxygen and moisture. They won't flourish in a humid, low-CO2 atmosphere if you do not ventilate. Mould, mildew, and fungal growth may pose a hazard to your greenhouse.
Keep your plants raised off the cold ground.
Final Thoughts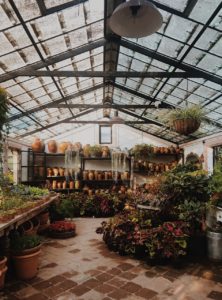 Greenhouses provide a safe and optimal environment to grow your plants, protecting them from pesky pests as well as from jaw-biting frost.
Many different kinds of greenhouses available in the market are desired for affordability and convenience.
They come in various shapes and sizes, including mini portable types, walk-in portable, or large walk-in greenhouses.
These houses can control the temperature up to 30 degrees Fahrenheit. Moreover, these houses keep your plants from freezing, allowing plants to grow regardless of what's happening outside the walls of their safe space.
Thus the insulation provided by these magical constructs during winters avoids any hindrance in the growth of your precious plants and keeps your garden green and going.
Before you go, here are some more related articles I encourage you to read below to help solve more of your gardening issues:
What is the best ergonomic garden kneeler and seat
What are the Best Ladies Gardening Gloves
What Is The Longest Garden Hose Available
About the Author:
Saad Ansar
Saad is an avid gardener himself and is a great lover of plants, animals, photography, & people. Currently, he is focused on photographing indoor plants & captioning beautiful outdoor sceneries. He writes and rewrites in-depth articles on nature and science.