Some links in the post are affiliate links and I get a commission from purchases made through some links found in the post.
While a trimmed lawn and some perfect hedges add some appeal to your yard, they cannot match what flowers can do for your home.
Are you looking to beautify your yard with some flowers? Here are some ideas you may want to try:
Choosing Flowers for Your Front Yard
When starting a garden in your front yard or adding some flowers in pots or hanging baskets, it can be quite easy to get carried away by the hues.
However, the success of your garden comes down to how much planning you have in place. The key considerations include:
The Amount of Sunlight
You must know how much sunlight each section of the yard receives.
If you want to plant the flowers in the garden instead of potting or hanging them, you can mark the areas using spray paint.
It is especially important to understand this to avoid a situation where a tall plant blocks a shorter one from getting enough light.
With pots and baskets, you can always move the plants around to get enough lighting, but it helps to understand what's available from the start.
The Space Available
Flowers need adequate spacing to thrive, and you must make sure you have accorded them the same.
Plan your garden and see how much of the yard you will need to realize your dream and assess this feasibility.
You may find that your choice of plants cannot fit into the yard.
The Theme
What would you like to have in your gradient? Some people go for one hue, others mix and match while others create a rainbow.
This decision is up to you but affects the outcome of the garden.
The Hardiness Zone
You must understand if the flowers can grow in your area, as they will be in contact with outdoor conditions.
Get a copy of your zone map and match this to your preferred options.
The Watering Needs
Always have plants that need similar amounts of water together. Else, you can end up overwatering or underwatering some, thus ruining the setup you have in mind.
The Blooming Period
Would you want the flowers to bloom simultaneously? If yes, you need to know when each flower blooms.
It also helps to consider why you are planting the flowers. For example, if you would like to enjoy their scents, you can position the garden closer to your windows to allow the wafts to get to the house.
Below are some options to consider based on various factors. You can always further divide the categories to suit your needs:
Best Groundcover Flowers For Your Front Yard
When creating a flower bed, the best option is to have low growing plants towards the outside as you move towards middle growing then tall plants.
Here are some ideas you may want to try. Not only do they do well in sunny spots, but most of them can tolerate shade.
1) Flowering Thyme
Picture a flower you can use as a backdrop and also eat. That's right! This plant is edible in addition to being a lovely addition to your yard. Talk of hitting two birds with one stone!
It does well in hardiness zones 5-9.
2) Alyssum
If you live in an area prone to high temperatures and occasional droughts, this choice might be what you need.
Other than being hardy, its white variety also adds some elegance to your space.
You can grow it in zones 7-11.
3) Sedum Dragon's Blood
Low-growing flowers do not have to be subtle. You can also choose vibrant hues such as this red hue that sticks out even in the winter. What's not to love?
It does well in zones 3-6.
4) Delosperma
Here is yet another plant that adds some vibrancy to your space. This species, which also goes by the name ice plant, has a range of varieties.
You can thus choose one that best matches your yard's needs. Fascinating blends include orange and white.
Favorable zones are from 5-9.
5) Black Mondo Grass
Have you ever noticed that most people start with grass as they move towards flowers in the mid-section of their gardens?
Well, as much as you can borrow from this, it helps to veer off the path a bit. And planting black grass might be the best way to make your yard stand out from the rest.
The beauty of this grass is that it brings out the beauty of any other plant around it.
For example, if you plant a white flower around it, the white will even pop more. Plus, the grass remains vivid even during the winter months.
You can get in on this beauty if you live in zones 6-10.
Best Flowers for Your Front Yard That Come Back Year After Year
If you want flowers that will grace your garden for many seasons, perennials would be a great choice. They are best planted in spring or fall.
It takes a while for them to establish, but you can look forward to a few weeks of bloom each year once they do.
It is also an easy way to cut back on money spent in prepping the yard.
1) Black-Eyed Susan
Black eyed susan flowers bloom towards the mid of summer to the start of fall, giving rise to delightful yellow petals.
Remember that some of these varieties are biennial, and you need to check on this before leaving the flower store.
Some can grow to heights of seven feet, making them ideal center plants.
Best for hardiness zones 3-9.
2) Amsonia
From spring to the start of summer, this flower with starry blue features can add some life to your garden.
For the best results, plant this species in large numbers to get a fuller look. It thrives even better with direct sun exposure.
Best for hardiness zones 5-11.
3) Baptisia
If you would like some visitors in your garden come the summer months, this would be a good option.
It features indigo spikes that seem to be a hit with butterflies and bees alike.
As long as the plant has full sun exposure coupled with its other needs, you can look forward to a beautiful array every year. Other varieties exude white, yellow, blue, or pink spikes.
Best for hardiness zones 3-10.
You may also like: 10 flowers that look like peonies that are just as pretty
Best Annual Flowers for Your Front Yard
Annuals last only one season, necessitating replacement each year.
On the bright side, they bloom continuously and offer a lot of flexibility regarding ideal planting periods.
1) Angelonia
This species withstands heat and drought and can work for areas with one or both these conditions.
No matter how hot the sun gets, they remain upright, exuding their lovely light to deep purple hues.
Best for hardiness zones 8-11.
2) Begonia
While these flowers may be small, their bright colors more than make up for their sizes.
They feature white, pink, and red clusters that create a breathtakingly beautiful view that is sure to transform your yard.
Even better, they require little to no maintenance even when growing in full sun.
You can always move them indoors when the temperatures take a turn for the worse. Alternatively, you can store their tubers for the next season.
Best for hardiness zones 6-9.
3) Celosia
One look at this species, and you can tell that it is one of the most colorful options in the market.
It also comes in numerous shapes, adding to the many choices you already have. Furthermore, growing and caring for it comes easy.
Best for hardiness zones 10-11.
Best Budget Friendly Flowers for Your Front Yard
If you want to beautify your yard without breaking the bank, here are some options to consider:
1) Queen Anne's Lace
This annual plant is highly productive that a little goes a long way, cutting back on the required investment.
Best for hardiness zones 1-10.
2) Snapdragon
This annual does well in both hot and cold climates and blooms for longer than most plants. Its bright flowers are a huge plus.
Best for all hardiness zones.
3) Peonies
These popular perennials are easy to grow and do well in almost all zones. Moreover, with proper care, they can serve you for more than a century! Imagine that.
Best for hardiness zones 3-8.
4) Lavender
This perennial not only boasts of a lovely scent but also features a subtle yet beautiful structure that adds to the beauty of your yard.
Plus, destroying this plant is quite hard as it seems to spring up each time it faces some destruction.
Best for hardiness zones 5-9.
How to Plant Flowers in your Front Yard
You have the following options, which you can pursue as they are or in combination with each other:
Flower Gardens
These work best for permanent setups (perennials). You will need to arrange the plants based on the factors we set out under flower selection.
Hanging baskets
These add beauty to space and allow for flexibility (annuals). They also tend to have low maintenance needs, and you can easily craft some by employing some DIY techniques.
Pots
If you would like to move your flowers often, this would be a great choice.
Plus, you can always move them indoors when the conditions outside get too rough for your flowers. These are ideal for annuals.
Final Thoughts: Best Flowers for a Beautiful Front Yard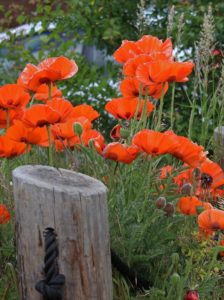 Whatever method you choose, ensure that the flowers get enough care by giving them adequate lighting, watering, and fertilizing as and when needed.
For more specific care practices, refer to your choice of flower's growing needs.
Happy Gardening!
Written by: Daisy Njeri