Some links in the post are affiliate links and I get a commission from purchases made through some links found in the post.
Are you confused or thinking about how to hang stuff on your brick wall without drilling through it?
We have the solutions for you right here! Since many of us live in houses made out of brick, I understand sometimes it becomes quite a hassle to drill into the brick wall because of its thickness.
That is why we have made a list of how you could hang your favorite things on brick walls without even having to drill it!
Doesn't that sound amazing? Keep reading to know more about how to achieve your aim of hanging your things on a brick wall!
Outdoor Brick Graded Double Sided Tape
If you're looking for a double-sided tape to use outdoors, then don't worry! We have made a list of the best double-sided tape perfect for using outdoors on bricks!
1) Gorilla Heavy Duty Mounting Tape
It is a long-lasting and weatherproof double-sided tape perfect for outdoor use. This heavy-duty tape can hold up to 30 pounds.
All your DIY projects will become easier with this heavy-duty double-sided mountain tape! It is one of the toughest industrial-strength mountain tapes available in the market.
This double-sided adhesive-coated tape works well for hanging your stuff indoors and outdoors. It can be used on plastic, metal, wood, glass, or brick.
2) Scotch Permanent Outdoor Mountain Tape
This product managed to get many positive reviews and satisfied customers.
This outdoor mountain tape should be number one on your list if you want a hassle-free and permanent bond to hang your stuff.
It can hold up to 15 pounds and is weather resistant. It holds securely even on rough surfaces and is the best tape to use outdoors.
You can use this tape instead of nails and screws. The strong permanent contact provides full support to whatever you want to stick to this tape.
It is easy to use and creates no mess or damage to the surface.
This tape's main aim is to provide strong support to whatever you wish to use this tape for, and it is intended for outdoor use. It is ideal if you use it on metal, plastic, or brick.
3) EZLifego Double Sided Heavy Duty Tape
This transparent adhesive tape is powerful and durable. It comes with 2 rolls in a package and is removable, leaving no residue when you take it off.
It is extremely versatile to use and can be used anywhere indoors and outdoors. It holds up to 18 pounds and is easy to disassemble without damaging the surface.
It is made under strict quality testing and provides the convenience you need.
Make sure to stick this tape on a clean surface and measure the correct size of the area you want to stick this tape on.
Paste it on the wall and peel off the protective film before using it. This tape is reusable; wash it before using it in case it gets dusty.
4) T-REX Ferociously Strong Tape:
This premium adhesive made with UV resistant materials can be used indoors and outdoors.
This tape is waterproof with heavy-duty knit-cloth for long-lasting repairs, made especially for use on bricks and concrete.
It is waterproof and works best in cold or hot weather. Its high tensile woven scrim increases strength and durability.
The double-thick adhesive holds even the strongest of surfaces together.
This tape is ideal for all types of people; whether you want to use it indoors or outdoor, this tape will provide the ability to stick even on rough and dirty surfaces.
Brick Clips that Grip Bricks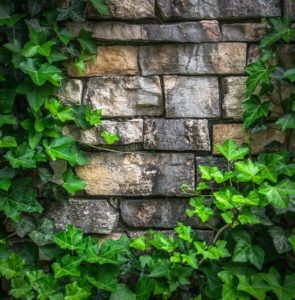 Are you wondering about a method to hang your stuff on brick walls without having to drill them? Then brick clips are your best bet.
These brick clips don't need any drilling and attach to the brick without you having to harm those bricks in your house.
Keep reading to find out which brick clips are the best for brick walls.
However, before purchasing any of these products, make sure to measure the size of your bricks.
Since the brick sizes vary (who knew), but well, they do. So make sure to measure the size of your bricks and these brick clips before buying them.
1) Holiday Joy- 4 Metal Brick Clips
These brick clips don't need drilling. You clip it on your brick and hang your stuff. It can be used to hang stockings, lights, wreaths, and decorations.
If you want to change the brick clip position, remove it, and clip it wherever you want.
It has a finishing of Antique Brass, and since the fastener is behind the brick clip, it is mostly not even noticeable.
This brick clip's main advantage is that you can take it out and clip it anywhere you like as many times as you would like.
To install this brick clip, place the spring edge at the base of the brick. For a secure fit, the brick must stand 1/8th from the mortar joint.
Push the clip until the upper teeth of the clip grip the brick. You might need a screwdriver and lastly, push the clip securely against the brick.
This metal brick clip has an antique finishing that is easy to clip on and off without damaging your bricks.
It can be used in different places and re-useable since you can use it as many times as possible. It supports up to 25 pounds made of strong steel.
You can hang heavyweight stuff as well as lightweight stuff on these brick clips.
You don't need any holes or drills for these brick clips and can hang garlands, lights, and decorations and is best for outdoor use.
The antique finishing makes it a great product to look at and goes with any color brick walls.
The company offers a 100% guarantee and money refund if you are not satisfied with their product.
You need to place the spring edge at the brick base and press until the clip's upper teeth grip the brick.
You might need a screwdriver, and lastly, push it a little harder and secure the brick clip, and you are good to go!
Whether you want to decorate your apartment or your garden, these brick clips should be one of your choices when buying brick clips.
These brick clips not only save your time but are also easy to use without damaging your brick walls.
They look best outdoors when you need to hang fairy lights for a nice cozy dinner or hang your plants outside your door or in your garden!
Brick Clips that Grip Mortar
The brick clips that hold into mortar can be used in different sizes of bricks. This is a great advantage when you buy these brick clips at the store if you forget to measure your bricks!
One issue that comes here is that your brick wall needs to have a definitive squared edge—almost the size of a pencil eraser where it will hold the mortar without any interference.
These clips work well and grip the mortar. The smaller bulk also adds to the advantage and works great for your outdoor plants!
Hammerable Brick Clips
Nail clips in brick walls are a good idea when you think about it, but when you try to do it practically well, it is not that good of an idea!
When you try to insert a nail clip in a brick wall, it simply bents or refuses to budge from its place.
They might work well on wood walls if you really want to use them, but they don't stand a chance when it comes to brick walls.
Ideas for Holding Stuff Into Bricks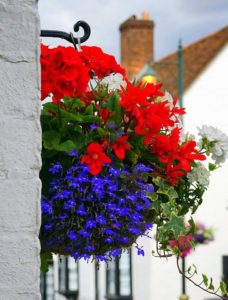 An exposed brick wall can be quite a hassle when it comes to decorating. Obviously, it is not the easiest task to hang stuff on your brick walls with or without drilling.
Therefore, we have made a list of some of the ways you can hang your stuff on a brick wall without drilling.
You can use these ideas outdoor, especially in your garden or balcony, when trying to give your apartment or home a lively look or if you're looking for a change in the decor of your house.
Since all of these ideas are easy to use, you can keep changing their places whenever you like!
Hanging Plants
If you're looking for ways to add some color to your house, then hanging plants should be on your list.
Use the ceiling as a surface to hang the plants and hang any plants on your brick using it as your canvas.
String Lights
String lights comes in all sorts of different sizes and weight. Choose the lightweight string lights to hang on your brick, so it doesn't even distract the brick wall.
Tiny hooks should do the trick if you want to hang these string lights.
Unframed Pictures
If you feel like using your old pictures without the frames, this can be an excellent idea for your brick walls.
Just use some transparent tape, and you're good to go! You can also add a touch of color by taking the paper route.
Using different colored paper will give your living space just the right touch of color!
Fabrics and Curtains
Since they are so lightweight, they make great wall art. Use some hooks horizontally to hang these or make it stand on a colorful painting.
Backless Bookcases
One great way to decorate your brick wall without drilling anything in it is by using a bookshelf that will display your books, plus it will let your brick wall shine through it.
It will be pleasing to the eye and also help if you are short of space.
Oversized Mirrors
If you have a blank brick wall and looking to make it look a little appealing, you should go for this trick.
Place an oversized mirror in front of the brick wall, and to add depth to it, add a cabinet in front of the mirror to give it a royal effect.
Lanterns
One more way to use your brick walls is to hang lanterns from the ceiling. Hang them at various heights to give an artistic look to your living space!
How to Hang Heavy Items on Brick with Drilling:
It's usually easier to drill into the mortar than the brick since drilling into brick requires a lot of hard work and more time since it's harder.
But drilling in the brick will give you the desired results if you want to hang heavy items on a brick wall.
Here a list of things you will need:
Hammer or a regular drill
3/16th anchor screws
5/32 masonry drill bit
How to Drill:
First, mark the spot on the brick where you want to drill with a Sharpie.
Level your drill machine and drill into the brick using the masonry drill bit.
Make sure to keep your drill machine straight to give you the desired whole size. If you move it here and there, the whole might become a little too big for your screws.
Don't drill too deep in the brick. Keep it the same width as your screws.
Lastly, screw your anchor screw with a regular drill.
Bonus Tips:
Brick clips have proven to be the most effective and efficient way to hang heavy stuff on brick walls. When all other options fail, this is going to be your best bet!
Final Thoughts: How do you Hang Stuff on Brick Without Drilling?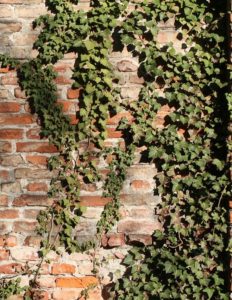 Whether you're looking to hang plants in your garden on a brick wall (which, by the way, look absolutely beautiful) or want to hang some fairy lights, brick walls make an amazing backdrop for all your decorations, whether indoors or outdoors!
You can also get brick clips from any hardware shop, which is a bonus since you won't have to look for the right stuff for your brick walls since they are so easily available!
Before you go, here are some more related articles I encourage you to read below to help solve more of your gardening issues:
What are the Best Trees to Plant Near Your House for Shade
Top 5 Best Small Trees with Non Invasive Roots
What Are the Fastest Growing Evergreen Trees for Small Gardens